By: Chloe Black
Trading prose for poetry, Elizabeth Acevedo's 2018 novel The Poet X dives deep into the themes of religion and sexuality through the journal of fifteen-year-old Xiomara, a tenth grader struggling against her mother's stringent Catholicism. The book opens with Xiomara having a crisis of faith as she begins tenth grade. She is struggling with being confirmed in the Catholic church because she doesn't feel comfortable devoting herself to God, and she's expecting her new English teacher, Ms. Galiano, to live up to her reputation as a notoriously difficult teacher. Instead, Ms. Galiano supports Xiomara academically and personally and encourages her to join a spoken word poetry club. At first, she refuses, saying she couldn't possibly perform but she eventually finds validation in writing, performing, and helping others with their poetry.
The conflict between Xiomara's religion and the expression of her sexuality is explored in depth in The Poet X. When beginning a relationship with her classmate, Aman, Xiomara feels ashamed but not sorry for kissing him, something she expresses in confession with Father Sean. Unfortunately, her relationship with men in general is rocky. As a full-bodied young girl, she has to physically fight off men who sexualize her body and harass and attack her. Her Mami blames her for receiving this attention: uber religious, she calls her a whore and tries to force Xiomara into Catholicism, often physically, but Xiomara doesn't feel comfortable with it and fights against it when she can. Throughout the book, we constantly see Xiomara refusing to internalize what she's told about God without her making sense of it first, and when she can't, she rejects it.
This sentiment towards religion is what one family, the Cobles, took to court in 2020: they argued that this book was inherently and unconstitutionally hostile towards Catholic values and beliefs. They sued their son's school district for teaching the book, and then took the issue up with a federal appeals court before being struck down for being unable to prove that that the book was chosen specifically to be taught as anti-Catholic.
The Poet X was published by HarperTeen, a subset of HarperCollins LLC, in 2018. It was won a multitude of awards and been nominated for many others, including but certainly not limited to the National Book Award, the LA Times Book Prize, NY Times Editor's Best Choice, and listed as one of NPR's Best Books of the Year.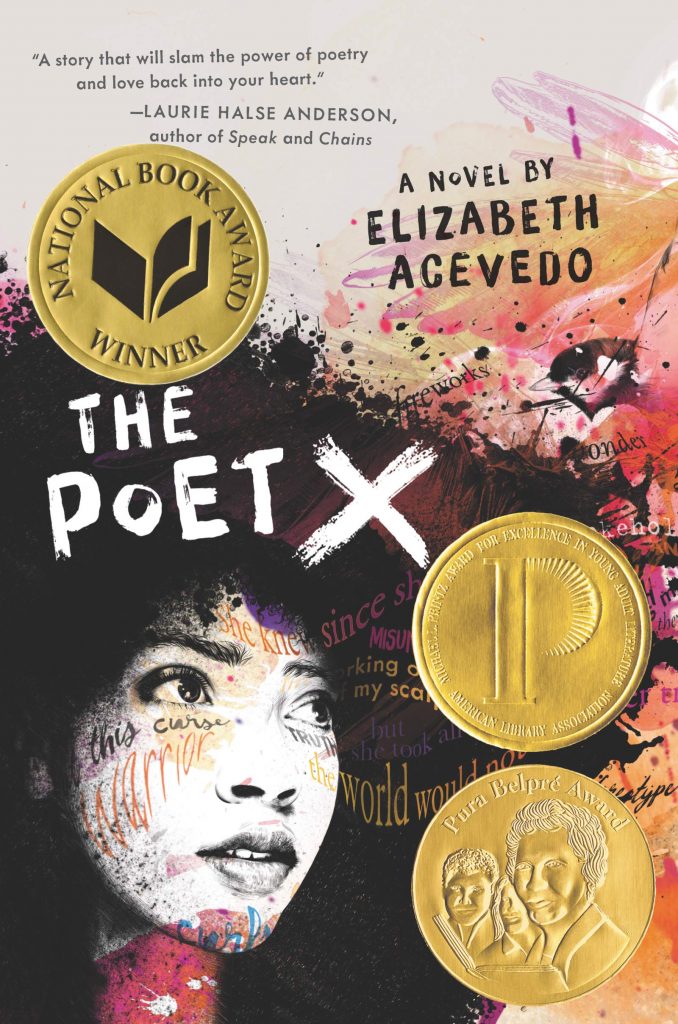 About the Author 
Dominican, Afro-Latina, and raised Catholic herself, Elizabeth Acevedo shares much in common with Xiomara. Her experiences with Catholicism and her mother as a child helped inform The Poet X's story arc, as did her relationship with religion. Raised by immigrants in Harlem, New York, she designed and earned a BA degree in performing arts at George Washington University and an MFA at the University of Maryland. She currently resides in Washington, DC with her husband.
Further Reading 
● North Carolina Lawsuit Challenges The Poet X Over Religious Viewpoint