By: Cionna Sharpe
Published in 1977, Toni Morrison's novel, Song of Solomon was able to rise to fame. Following the journey of the protagonist Macon "Milkman" Dead, their family history is unveiled. Based presumably in Detroit, the novel opens with a man plumishing to his death from trying to "fly" off the top of a building. This repetition of flight is a common symbol throughout Morrison's novel. After being compelled by his father to go on a hunt for gold that was believed to be hidden by his aunt Pilate, Milkman agrees and begins the search for his inheritance. Along this journey Milkman crosses paths with his aunt Pilate who gives him context about the death of his grandfather and the split between herself and his father, Macon Dead II. Given this new found context, Milkman is able to unmask the true problems faced within his family history and the black community in general after embarking on his mission. Milkman also learns the true history behind his real name and his grandfather's death when visiting pennsylvania. His quest ends with him understanding his spiritual inheritance instead of finding literal gold, and the death of his aunt Pilate who dies from a gunshot being fired by Milkman's best friend. Morrison utilizes Milkman's journey as a representation of the flight most black men go on in order to obtain freedom and more liberating lives, protect their families, or to escape death. Despite beginning his search with different intentions, Morrison allows for Milkman to learn the importance of his family history and instead of continuing the cycle, she gives him an attempt at breaking the generational curse on their family and being more aware of his identity. Her portrayal of a man's instincts and feelings through a growing perspective is what allows for the depth and elucide adaptation of this novel to be taken into greater consideration by readers. Along with many other novels of Morrison's, Song of Solomon has received numerous accolades. Gaining reviews from the New York Times, becoming highlighted as the starring book of Book of The Month, and winning both the 1977 NBC fiction award and Janet Heidinger Kafka prize, Morrison's novel has grown in popularity still till this present day.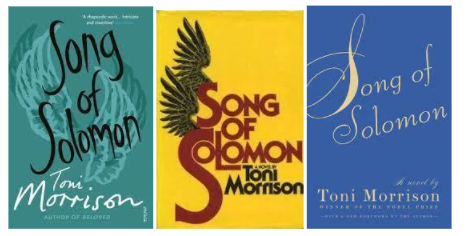 Often critiqued for it's close relation to racism, sexual themes, and overall inappropriate nature, Song of Solomon often causes the eruption of controversy. Within school systems, it has been said on various different occasions that the inappropriate language and sex scenes that tend to come up are to revealing for the child audience. It is also said that the visual representations of racism in the novel are too traumatic in ways that children shouldn't be exposed to. Some attempts of banning this novel have been its suspension from school curriculums (such as St Mary's county school in 1998, Indiana school district in 2010, and many more) but sometimes being reinstated with parental consent in some schools.
Chloe Anthony Wofford Morrison, also known as "Toni Morrison", graduated from Howard University in 1953 when her writing career began. Her most notable works consist of Song of Solomon, The Bluest Eye, Beloved, and many more. Mostly admired for her portrayal of the racist America, Morrison has been able to achieve recognition from numerous public figures, including Barack Obama. Morrison's legacy will be longlasing and forever controversial as she managed to highlight the true experiences many encountered in their traumatic lives living in America.
Further Readings:
https://www.bannedlibrary.com/podcast/2018/6/5/song-of-solomon-by-toni-morrison
https://jezebel.com/banning-books-is-stupid-and-insulting-song-of-solomon-5528119