By: Elizabeth Lathan
A graphic novel written by Neil Gaiman and illustrated by many others, Sandman follows various perspectives of the continuing story Morpheus, otherwise known as Dream, after the 70 years he was falsely imprisoned in an attempt to imprison Death. Since his return, Dream has set out to rebuild his kingdom and put things right, as dreams and sleep have been wildly disrupted without his presence. Sandman is based loosely upon the DC hero of the same name, whose alter ego Wesley Dodds (1930s) makes some appearances in the series. This graphic novel's themes unsurprisingly surround the concept of dreams, as well as themes of death and desire. Gender in Sandman is also brought into light; several characters challenge gender roles in the way they present, physically or in their actions. Sandman also depicts non-nuclear families: Rose's family, consisting of her mother and grandmother, a woman who was raped and impregnated while sleeping, leaving her daughter without a biological mother. Sandman is a critically acclaimed book, and remains so for its thematic storytelling and visuals; in 1991 it received a World Fantasy Award for Best Short Story; the first comic to receive a literary award.
The series's history as a banned book spans back as far back as the year it was published, as it's themes were "unsuitable to a specific age group" (that group being teens and young adults). One case in 2003 involved parents' opposition of the book in the YA section of the library. Most notably and recently, in 2015 a 20 year old college student at Crafton Hills College, Tara Shultz, fought alongside her parents to get Sandman banned. She challenged other books as well, including Y-The Last Man, Persepolis, and Fun Home, claiming the material to be 'pornographic'; according to Shultz, she "expected Batman and Robin, not pornography". To the banning of his books, Gaiman replies that he feels "Mostly resigned. There is sort of a "oh, here you go again… You are just still out here….I think if ever I did feel the urge to get up in the morning and go "I wonder if I do write garbage?", I could go "well, for those people, obviously I do, but there's enough people out there in the world who think I write good stuff and that's good enough for me".
Neil Gaiman is an acclaimed author known mostly for his fictional works, such as Sandman, American Gods, The Graveyard Book, and Coraline, among others. He was born in Hampshire, UK, and moved to the United States, currently residing near Minneapolis. Gaiman started out writing for journalism in England, writing a few biographies later on, and then to comics, with Violent Cases being his first and Sandman his second comics. Gaiman is no stranger to his books being attempted to be banned; his works, many of which are on the darker side, especially children's content, are often challenged for reasons such as "unsuitable age group" or "lack of family values".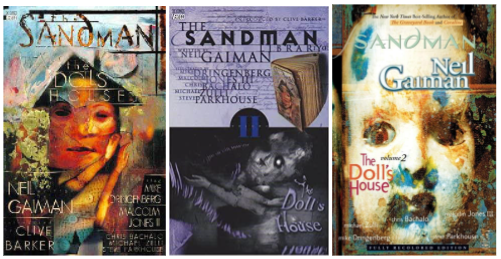 Further reading:
https://www.google.com/amp/s/amp.theguardian.com/childrens-books-site/2015/aug/29/neil-gaiman-banned-books-censorship-interview
https://www.google.com/amp/s/www.cbr.com/student-parents-want-college-to-ban-sandman-persepolis-more/amp/
"The Sand/wo/man: The Unstable Worlds of Gender in Neil Gaiman's Sandman Series" by Ally Brisbin and Paul Booth
Case Study: Sandman