By: Maximilian Adams
Marjane Satrapi's prominent graphic memoir Persepolis recounts her early years living in Tehran, the capital of Iran, during a very turbulent and eventful period of Iranian history from the late 1970's to the early 1980s. Events throughout this period include the overthrow of the Shah of Iran, the regime that replaced the Shah, and the Iran-Iraq war. Satrapi reflects on her life from ages 10 to 14, and the development of her own perspectives on her family, culture, and country. She provides a very unique point of view of a young modern girl in the Middle East and is able to touch on several themes: religion and repression, nationalism and martyrdom, and gender roles and gender norms in an unfamiliar society.
Publication Info
Persepolis was originally published by L'Association as a four volume series that came out one volume per year from 2000 to 2003. Pantheon Books published volumes 1 and 2 into a single English translation of new cover art in 2003. This was followed by the publication of Persepolis 2 in 2004.
Awards
Persepolis has won several awards such as the Angoulême Coup de Coeur in 2001 and an appearance in Time's "Best Comics of 2003" list. The book was adapted into a film in 2007 and was critically acclaimed, being nominated for Best Animated Feature at the 80th Academy Awards and winning the Jury Prize at the 2007 Cannes Film Festival.
Challenges
Persepolis has been the target of multiple ban attempts and challenges in the U.S., but these did not begin until 2013, when the Chicago Public School System pulled it from classrooms and libraries overnight. The reasons for the ban were initially unclear, which led the district CEO to send an email claiming that the book was intended to be removed only from classrooms due to "graphic language and images that are not appropriate for general use." Fortunately, the book was approved for grade 11 classrooms. Now, teachers in grade 8 through 10 who want to implement it into their classrooms are required to complete supplemental training.
In 2014, the book was challenged three more times in different school districts. This landed it the number 2 spot on the ALA's Top Ten List of Frequently Challenged Books in the same year. Islamophobia was evident in these challenges, with a parent in central Illinois' Ball-Chatham School District questioning "why a book about Muslims was assigned on September 11." In another school district in Smithville, Texas, parents and community members were unhappy with a community book discussion series that included Persepolis. This series intended to foster discussion about Muslim journeys around the world, and catalyze informed discussions across the community.
About the Author
Marjane Satrapi was born in Rasht, Iran and grew up in Tehran in a modernist middle-class Iranian family. She attended a French-language school throughout her childhood, and experienced the Iranian Revolution firsthand. When she was 14 years old, her parents arranged for her to study abroad in Vienna to attend a French international school, and experienced bouts of homelessness until she was hospitalized for pneumonia. After recovering, she returned to Iran and obtained a master's degree in visual communication from Islamic Azad University in Tehran. After a short-termed marriage, she moved to Paris where she studied art, and eventually published Persepolis in 2000. Since then, she has published 4 sequels to Persepolis, along with several other graphic novels and memoirs. Recently, she directed a biopic about Marie Curie called Radioactive.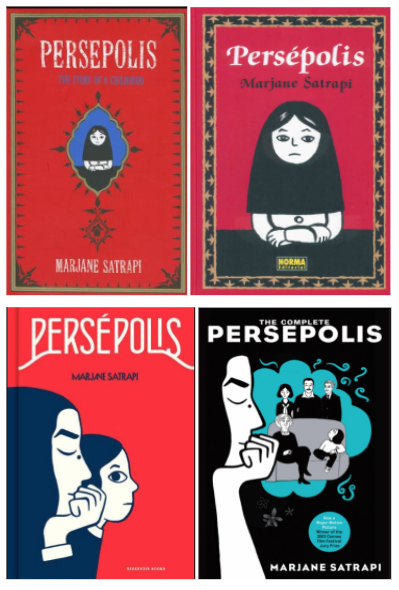 Further Readings
Information on 2013 Book Banning
Overall Information on Multiple Bannings